Multiply is a brand new programme to help adults gain essential maths skills.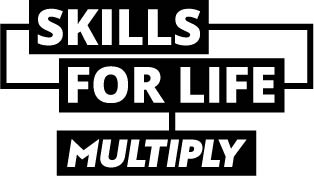 If you are over 19 years old and you would like to improve your maths skills, we have free courses to help you gain more confidence with numbers and numeracy for work and everyday life. The courses are free if you are living in a London borough, as Multiply is supported by the Mayor of London. There are some eligibility criteria - please see below.
Having a good level of maths can help you in many ways, from increasing your job opportunities, enabling you to prepare for further study or simply helping you with household budgeting or assisting your child with their homework.
If you have not already achieved a maths qualification up to GCSE at grade C/4 (or equivalent), you are eligible to enrol on one of the maths courses that are part of the government's Multiply programme.
There's no need to worry about your starting point - we are here to help you enrol on the right course to meet your needs and skills level.


There are lots of benefits to be gained by joining a maths course:
Get help to brush up on your maths skills and feel more confident about using maths and numbers
Become more confident in managing your money, bills and budgeting - all helping with the cost of living
Improve your opportunities for work or further study
Learn skills to help your children with their maths homework or with revision for their Key Stage 1 & 2 or GCSE maths exams
Gain a maths qualification - courses are available at lots of different levels from beginners, intermediate courses that build on existing skills and more advanced offers such as Functional Skills and GCSE courses
Take advantage of tutors that will provide advice and support to help you learn at a pace that suits you and helps you to achieve
Access free and flexible numeracy courses easily - some courses are offered as a blended learning option which is a combination of online and classroom-based teaching.


Check to see if you are eligible

Are aged over 19
Live in a London borough
Have not already achieved a maths GCSE at grade C/4 (or equivalent)
Have the right to live and work in the UK.

The types of courses available

Flexible blended learning courses for Functional Skills maths at Level 1 or Level 2. These are courses that are studied online and also in the classroom - supported by an online college tutor. We will work with you to find out which level suits you best.
Courses to equip you to help your child with primary (KS1 & KS2) and secondary (GCSE) maths. These courses give parents the skills to support their children in achieving their grades in these important exams.
Bridging courses to help prepare you if you have passed a qualification but are not quite ready to progress to the next level. We will work with you to make sure you are on the right level to help you achieve and work towards the next qualification level, up to GCSE.
Ready to find out more?
We have a range of courses available depending on your starting point, so you don't need to worry about trying to find the course that's right for you - we will help you to sort that out!
Please This email address is being protected from spambots. You need JavaScript enabled to view it.and we will get back in touch to talk through the best option available to you.