Harrow College and Uxbridge College (HCUC) are celebrating high praise from Ofsted for their educational standards, in the first inspection since the merger of the two colleges.
Outstanding judgements were made to five of the eight areas of performance in Ofsted's recent report including the prized area of Quality of Education, with the remaining three areas as good, following their inspection visit in February 2022.
The report found students and apprentices to be "highly motivated to learn and achieve" and that "They thrive in their studies and are inspired by their lessons." It further noted students receive "excellent support from their teachers and support staff", saying they "learn exceptionally and make excellent progress" and have "excellent attitudes to learning".
The inspection across the west London campuses in Uxbridge, Hayes, Harrow on the Hill and Harrow Weald, also praised opportunities for adult learners such as those on Apprenticeship programmes and "…highly effective sector-based work programmes.".
The eight areas the inspection looked at are: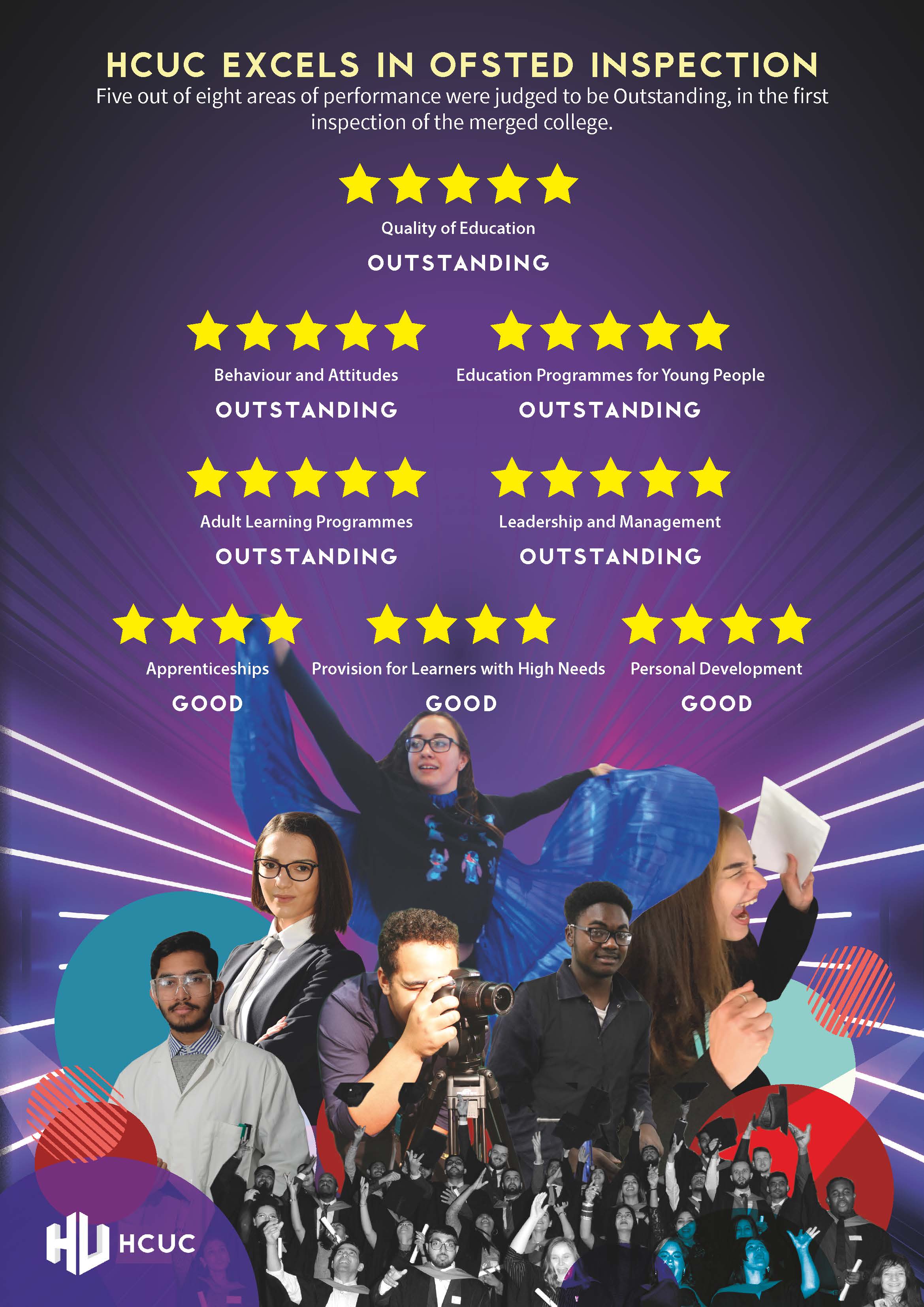 | | |
| --- | --- |
| Quality of Education | Outstanding |
| Education Programmes for Young People | Outstanding |
| Adult Learning Programmes | Outstanding |
| Behaviour and Attitudes | Outstanding |
| Leadership and Management | Outstanding |
| Apprenticeships | Good |
| Provision for Learners with High Needs | Good |
| Personal Development | Good |
The above profile provided an overall Good grade.

As well as successes around teaching and learning at HCUC, student support and academic culture were also highlighted. Emotional support offered to vulnerable learners by staff was deemed "exceptional", leading to significant improvements in learners' confidence. HCUC was seen to have "a culture of academic excellence" and "a rich and high-quality curriculum offer". "Exceptionally high standards" were also set by leaders and managers for teacher performance, which the college kept "consistently high."
Partnership work at HCUC was also praised, including the work with Brunel University London and other partners to launch and develop the West London Institute of Technology, which delivers high quality technical education in STEM areas and is based at the Uxbridge Campus.
The HCUC College Group, which resulted from the 2017 merger of Harrow College and Uxbridge College has nearly 10,000 young and adult learners.
Dr Darrell DeSouza, CEO and Group Principal of HCUC, said: "This is an extremely impressive inspection report, confirming the strengths and areas of excellence that epitomise the provision at HCUC, particularly so considering the pressures of the last few years with the impact of the pandemic and the merger. It is testimony to the dedication and professionalism of our magnificent staff throughout this time and it is particularly pleasing that inspectors recognised the brilliant attitude of our diverse set of learners that helps them to make the most of the outstanding quality of education they receive here at HCUC.
"The core message coming across to us from Ofsted's report is that what really matters for our students is really working. With 92% of our provision delivered to young people and adult learners, we are so proud that these areas of our performance were both graded as Outstanding.
"We are delighted to see every aspect of college life encompassed under the top two rating levels – Outstanding or Good – with the comments made by the inspectors reflecting our genuine commitment and integrity in ensuring the success and welfare of our students."
Dylan McTaggart, Deputy CEO of HCUC and Principal of Uxbridge College, said: "These results are extremely positive for Uxbridge College and across HCUC, and we are very proud indeed to see both our efforts and achievements reflected in the Ofsted inspectors' ratings and comments. At Uxbridge College, the ambition for students achieving in the highest proportions, and the support for each and every student shown over so many years was realised in that week as Outstanding Quality of Education - congratulations!
"We are immensely proud of the report's recognition of the strength of our teaching, student achievement and curriculum strength, noting that the outstanding judgements covered over 92% of the 10,000-student provision at HCUC.
HCUC students and staff were recognised for their continuous effort to elevate the College's offer and impact and just look at the strength and breadth of positive comments in the report - well done!"
Jo Withers, Principal of Harrow College, said: "The merger between Harrow College and Uxbridge College has been an incredibly positive step forwards for both colleges, with shared expertise and resources providing an expansion of excellent opportunities on either side. Harrow College was particularly pleased to see the positive comments by inspectors around our facilities for Health and Social Care training and to support the care of high needs students."
Nick Davies, HCUC Chair of Governors, said: "Staff and students were a credit to the College, which is the best reflection of the quality of education across the College group. On behalf of the Governing Body, congratulations HCUC!"
To read the full report please click here.